Gold market in Vietnam
Many people who purchased gold of brands other than SJC are feeling cheated, losing between VND1 million (US$47.6) and more than VND3 million ($142.8) per tael when they convert their precious metal into SJC bullion.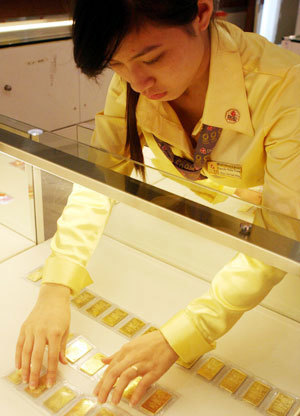 SJC-branded gold bullion is sold at Ruby Plaza in Ha Noi.
The conversion of non-SJC gold has caused losses to small investors.
Earlier this year, the central bank decided that it would be the only producer of gold bullion, and chose SJC as the national brand.
After this raised a storm of protest from banks, gold traders and the public, the central bank gave the green light for recasting non-SJC gold bullion.
Under the new regulation, all bent and buckled SJC gold bars, as well as all non-SJC gold bars that still meet other standards of quality and weight, could be exchanged for SJC bars for a nominal fee of VND50,000.
But, in fact, people who holding non-SJC gold bars are having to suffer losses of between VND1 million and over VND3 million when they try to get their gold recast into SJC bars.
Nguyen Thi Thanh Mai of Dong Da District in Ha Noi said she had saved up odds and ends to buy two taels (one tael equals 1.2 ounces) of gold carrying the Rong Thang Long brand.
When she bought these bars, they were priced the same as SJC bullion.
However, "since late last year, the price of Rong Thang Long gold has gradually decreased.
"I kept them and waited until the central bank allowed non-SJC gold bars to be converted into SJC, hoping that I will get better prices," Mai said.
"I was really disappointed when I saw that the buying price of Rong Vang Thang Long gold bullion listed at the Bao Tin Minh Chau Company's shop on October 29 was only VND42.7 million per tael, VND3.43 million lower than the rate of SJC bars."
Mai was told that not only Rong Vang Thang Long but other non-SJC bars also had prices much lower than SJC gold. This meant that if Mai wanted to buy two taels of SJC gold, she would have to pay an additional VND6.86 million ($320).
A similar situation prevails in the HCM City market.
Late last week, Hoang Hong Ngan of Tan Binh District went to a branch of a major bank in the district to sell one tael of the bank's gold and buy an SJC gold bar instead.
Although Ngan's gold bar was produced by the bank, it only paid VND45.23 million for it, nearly VND1 million less than SJC bars.
Nguyen Thanh Long, chairman of the Viet Nam Gold Business Association, said gold companies should have responsibility for gold bars that carry their names.
"Profits that gold traders including gold companies and banks can make from converting non-SJC gold to SJC gold now are too high when compared with the fees they have to pay to recast the gold," Long told the Tuoi Tre newspaper.
Le Hung Dung, chairman of the SJC Company, admitted that some gold traders have recently pocketed large sums of money by buying non-SJC gold bars at low prices and selling them at high prices after converting them into SJC bullion.
The owner of a city gold shop, who did not wish to be named, said the reason for the low prices being paid for non-SJC gold was that in the past gold-trading companies had to buy back bullion they had produced when they were not allowed to get the SJC stamp on them. They then had to hold on to the gold, incurring large expenditure on bank interst and losses due to price fluctuations. They are now compensating for these, he explained.
But Cao Ngoc Dung, general director of the Phu Nhuan Jewellery Joint Stock Company (PNJ), claimed: "PNJ gold is always 9999 pure. We are responsible for buying back all PNJ-branded gold at reasonable prices."
Nguyen Quang Huy, director of the State Bank of Viet Nam's Foreign Exchange Department, said the law allows people to hold non-SJC gold bars.
Yet many people want to quickly convert their non-SJC gold to SJC gold, and it was this demand that created opportunities for gold traders to slash the prices of non-SJC gold, he said.
The central bank has already told those possessing non-SJC gold to wait until it can set up a network to convert non-SJC gold, he said, adding people "should keep calm now."
Nguyen Thi Hong, vice chairwoman of the HCM City People's Committee, wants the central bank to temporarily export gold bullion and import solid gold to ensure supply of gold in the market, thus reducing the price differential.
VietNamNet/VNS