Part 2: Phu Quoc fish sauce brand disappearing
VietNamNet Bridge – Real Phu Quoc fish sauce products have gradually disappeared from the market, and even from its homeland. They have been retailed only to travelers, who still love the traditional product.
Part 1: The storm rushes down in the Phu Quoc fish sauce craft village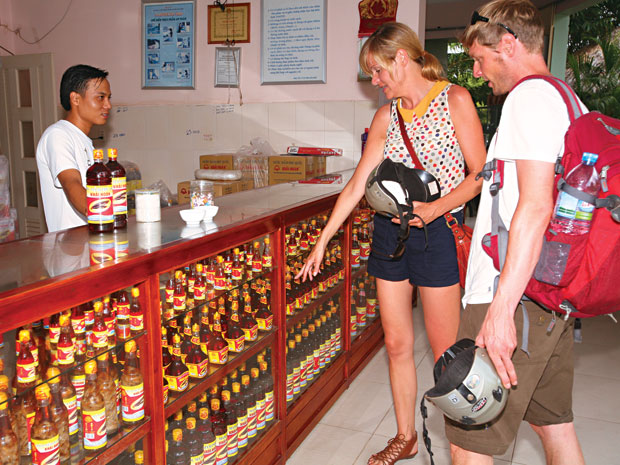 The once well-known fish sauce brands such as Thanh Quoc, Hong Dai and Khai Hoan still exist. However, most of the products put out by the workshops are now selling to the manufacturers who then process the fish sauce into different products and launch into the market as "high grade fish sauce."
The owners of the workshops still have been trying to maintain the traditional career and keep the soul of the Phu Quoc fish sauce by making the bottles of real Phu Quoc fish sauce – the drops of fish sauce extracted from anchovies and salt kept in wooden barrels for many months – and retailing to the travelers to Phu Quoc.
A lot of travelers visit Khai Hoan, known as the biggest fish sauce enterprise in Phu Quoc and buy real fish sauce products to give relatives as gifts.
However, Ho Kim Lien, Director of Khai Hoan Company, admitted that not many people are interested in Phu Quoc fish sauce any more.
"Some travelers from the south say Phu Quoc fish sauce is salty, and they would rather buy Chinsu or Nam Ngu brand fish sauce products at supermarkets than the real traditional fish sauce in Phu Quoc," Lien said.
The director has also admitted that despite the great efforts of the company to run marketing campaigns, her fish sauce products, like other Phu Quoc fish sauce brands, still cannot squeeze into big supermarkets in HCM City and other big urban areas.
Therefore, Lien said, she plans to march towards the northern market, the area from Quang Binh province to Hanoi, where consumers have a different taste with the southern people and do not like sugared products.
Tinh from the Phu Quoc Fish Sauce Association agrees with Lien, saying that fish sauce needs to be salty, simply because the fish sauce products with the salinity of less than 25 percent would get spoiled just after a short time of preservation.
Tinh believes that the sauce products with the salinity below 25 percent would be able in good conditions only if producers use preservatives.
Tinh emphasized that it is the salinity which ensures that real Phu Quoc fish sauce does not contain toxic bacteria.
"It is the salinity which kills all bacteria. No bacteria have been found so far in Phu Quoc fish sauce," Tinh said.
"Other manufacturers advertise that their fish sauce products are "clean." However, consumers should be informed that there has been no dirty Phu Quoc fish sauce since the day Phu Quoc fish sauce appeared on the market," she added.
Deputy Chair of Phu Quoc district People's Committee Huynh Quang Hung sadly said that consumers are being cheated. The products introduced as fish sauce are the ones made up from original fish sauce plus a lot of aromatic flavorings.
Also according to Hung, a bottle of genuine Phu Quoc fish sauce with 300 degrees of protein is just a bit more expensive than a bottle of processed sauce with just 100 degrees of protein. Meanwhile, fish sauce producers well understand that there exists a big gap in the quality of the two types of products.
"In general, the protein content is always written down in small letters on the packs of the bottles of fish sauce, which cannot give sufficient information to consumers," Hung said.